Every year during the summer months in Buenos Aires the stray animal population swells out of control. Domesticated dogs and cats find themselves on the streets for the first time, scared, disoriented, darting between cars and buses and scrounging for food. There is one cause for their terrible fate: human irresponsibility.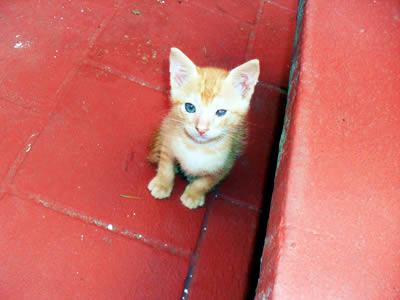 As the city's residents clear out of the metropolis and head to the beach to enjoy their holidays, many abandon their animals in the city's parks. This is considered acceptable in many circles, even among higher-income residents. Yet other pets get frightened and escape from their homes during the WWII-like firework extravaganza on Christmas and New Year's Eve. The fireworks also causes confused and scared stray mothers living in parks and plazas to abandon their new-born pups and kittens. After the holidays, still other animals, purchased as Christmas presents, are abandoned when families decide they don't want them.
While Buenos Aires is taking new measures to control the overpopulation problem the city's animal protectionists are at full capacity at this time of year and need help to deal with the abundance of stray animals. If they can't find homes for the strays they are faced with returning the animals they hand-fed and nursed back to health to the parks or handing them over to the few over-crowded and under-funded animal refuges.
Orphaned cats can make great pets. They tend to be unusually attached to their human friends and are dog-like in their loyalty.
Please help us to find home for these friendly felines: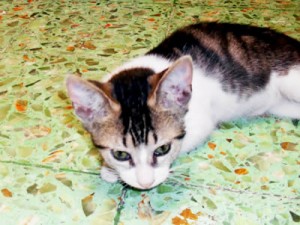 Tommy-Boy is male beige, gray, black and white calico who was found abandoned with the other kittens in a lot downtown. His stray cat mother probably abandoned the litter out of fear during the holiday fireworks. He's curious, happy and gets along well with other animals.
Chi Chi, Tommy-Boy's sister and best friend, is a yellow and gray calico with a white belly and paws. Her interests include keeping you company while you cook, lounging in the sun and playing with strings. She'd love to be adopted with her brother.
Miguelito landed at his foster home on the brink of death but he had a strong will to live and now after weeks of hand feeding is strong and healthy — the 'Brad Pitt' of kittens. Migue is a yellow calico who is sweet, philosophical and playful. He'd be delighted to find a nice family, with or without other pets.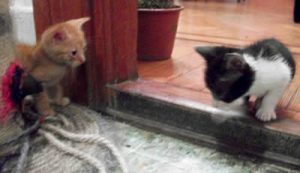 Ms. Vaquita is an easy-going and silly black and white kitten who will make you crack up with her antics. She very tolerant, affectionate and loves to lay belly-up in the crook of your arm while you read.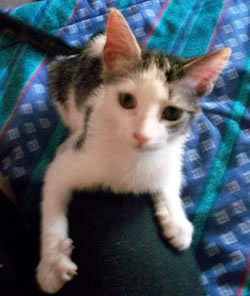 Sassy was found recently abandoned in a parking garage, covered in grease. When picked up for the first time she oddly purred all the way back to her foster home. Her interests are attacking strings and paper balls, playing in the bidet, cuddling and purring. She'd be a good companion for a gentle child and will happily live with other animals.
Rengatita is another kitty found starving, scared and covered in grease in a San Telmo parking garage. She's about seven months old, has a slight limp and is pitch black, making it difficult to place her. She's very sweet but shy with new people and would do well in a household with one or two adults. Whoever adopts her will win the Wander-Argentina.org crown of 'Cat Lover of the Year.'
All the kittens in adoption are litter trained, dewormed and are free to a good home with the promise that they will be neutered. We can help with neutering if necessary.
*Update: All cats adopted, but there are always more, please look here if you are wishing to adopt a cat.
If you're interested in adopting a dog, please see: Rescue doggies
Comments
comments