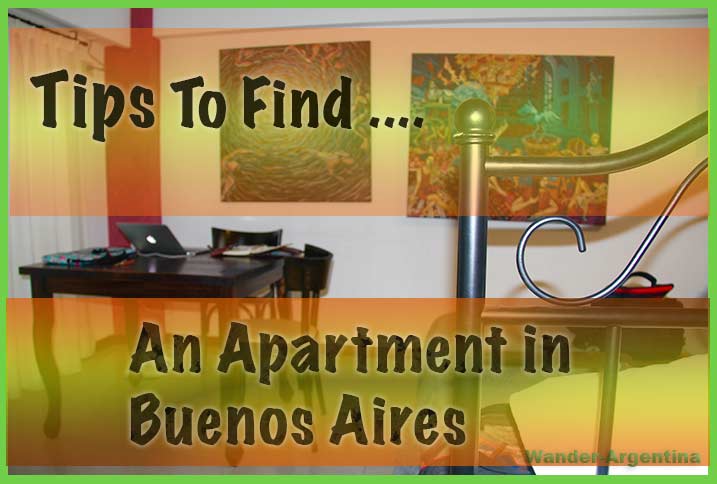 There are plenty of apartments in Buenos Aires. The abundance of estate agents along the main avenues make it clear that there are many empty flats waiting to be rented. If you have a DNI, the national identity card for residency, and a guarantor — an Argentinian who acts as your co-signer using their property deed — and a large initial injection of cash, you may be able to get your hands on a long-term rental contract, usually lasting two years.
While the rents of long-term contracts are usually less expensive than short-term rentals, the roadblocks for foreigners are steep. It should be noted that long-term rentals in Argentina don't come equipped with appliances such as refrigerators, heaters or ovens. Because of the paperwork roadblocks that make it difficult to get a traditional rental contract, today most foreigners residing in Argentina who want their own apartment try to convert a short-term furnished rental into a longer-term lease. 
Foreigners in Argentina who don't have a DNI card or a guarantor will certainly find it easier to rent this way, as these apartments are furnished and don't have the same steep barrier to entry.
Getting your foot in the apartment door to these short-term rentals is relatively simple — all it takes is a few web searches and clicks.
One site that is particularly hassle-free is Airbnb. Just search the neighborhoods, pin down the dates, and check the availability. Renting options include shared rooms, private rooms and entire apartments.
More importantly, the site has some safety mechanisms. Before booking, potential guests must give a valid name, email addresses, phone number, photo, payment information, and occasionally, a scan of an official ID.
One potential issue is that not all Airbnb apartments will offer long-term stays. This is something that can easily be confirmed with a quick email to the host.
Buenos Aires' Best Areas to Live
Those in Buenos Aires on a budget who are looking to share an apartment with a friend can search for single rooms with two beds in order to stretch pesos further. Many tourists and 'expats' decide to settle in the northern neighborhoods of Palermo, Belgrano and Recoleta. Increasingly, the bohemian district of San Telmo, where working class families and artists collide, has become an attractive home for foreigners, which has also stretched the range of rent in the area.
If you travel west, to the more central working and middle class neighborhoods such as Boedo and Almagro, then rent prices are generally lower, although they are a bit further away from Palermo, the liveliest nightlife area.
Buenos Aires after Airbnb
Fast forward a few months: the apartment has become a home of sorts. You've (mostly) unpacked, the kitchen always needs cleaning, and you've cemented your quirks, such as using the microwave as a complementary cupboard.
The end is near on your Airbnb booking, and life's been so frantic you've forgotten, or thought it a waste of time, to apply for a DNI card. The national ID card makes private renting much more easy. Without it, landlords will ask you for three months' rent upfront, in addition to a deposit. The DNI card wipes away this deeply frustrating step.
One option is to remain an Airbnb guest and keep extending your stay if the host allows it. But with each online booking, the company charges the guest a service fee of approximately 6-12% and the host 3-5%. So if you're hoping to extend your stay in the city, the best alternative is to talk offline and switch to private renting with your host.
 Extending Short-Term Rentals 
Two things happen when you convert your Airbnb stay to a private rental: first, those service fees are swept away, and second, it gives you bargaining power to lower the rent. But in order for this to happen, it helps to maintain regular contact during your stay and build trust with your host.
Those serious about staying in Buenos Aires long term, should let their host know well in advance. Maintaining good communication from the start builds positive rapport and trust between you and your host. Once there is an amicable relationship, it is more likely for the host to take down their apartment from the website and switch it to private renting.
Hosts just want their apartments filled, so if you appear reliable and maintain open communication, it's more likely for them to agree to rent it privately. After all, the longer an apartment is rented, the better for the host (rent income) as well as you (long-term security).
Another benefit of switching privately is that it shortcuts the necessity for a DNI card, as well as making the three-month advanced payment and deposit obsolete.
If you're still here three months later and working here, and being paid in Argentinian pesos, a currency you're unlikely to be paying on Airbnb. So for the first few months you'll be renting in one currency and earning income in another. This distortion can empty your bank account of one currency and fill your mattress with another. So aligning your rent payments with your income, keeping inflation in mind, equalizes this problem.
If your host lives in the city all you need is the correct cash in pesos; if they are abroad, you only need your passport to send a direct payment to their bank account.
Alternatives to AirBnB 
Life can be difficult without a DNI card in Argentina. It helps to find an apartment from the many estate agents that line the streets, although fees crank up the rental prices. Even then, expats still need a guarantor. The estate agent will conduct background checks on your guarantor and basically requires them to put their own property up as collateral. Those who haven't built up strong relationships with trusting porteños, will find this official channel of apartment hunting off limits for the near future.
Those who have enough cash reserves, can start fishing for flats on a number of websites that connect homeowners to potential renters. Craigslist is possibly the most popular option, along with private companies such as Buenos Aires Habitat. They offer rentals per day, week, or month, often with small discounts the longer you rent. However, the three-month payment upfront is still difficult for most to manage.
There is one other alternative, which involves a bit of luck, and the exposure of being an English teacher may increase your fortune.
Networking to Land an Apartment
Although many websites offer apartments, the one issue that hangs heavily like a bruised cloud is the lack of security and trustworthiness. Dealing with a rental company is all online, not personable, and there are no security checks. Often the photos are deceiving on private apartment rental company pages — AirBnB, in contrast, has verified reviews that give more insight. 
An another option, once on the ground in Buenos Aires, is to ask around. English teachers and tech workers in particular get to know executives, lawyers and professionals in middle-management that require English-language skills for work. Because of their career level, these professionals are likely to come from middle to upper class families and may have more than one apartment that they rent. They may also have contacts with people who are on the search for trustworthy foreigners (with foreign currency) to whom they can rent their apartments.
Renting from a known local contact is a much more secure way to rent, because you're dealing with people you see on a regular basis and have had time to develop a level of trust.
If you're stuck between the myriad ways of nailing down an apartment, just remember that frustration is fluid; the flexibility of the rental market in Argentina means finding a place called home doesn't involve too much sweat and tears.
— James Whitehead
→ Get $31 off your first AirB&B stay or a credit as a host with our affiliate link. 
Comments
comments