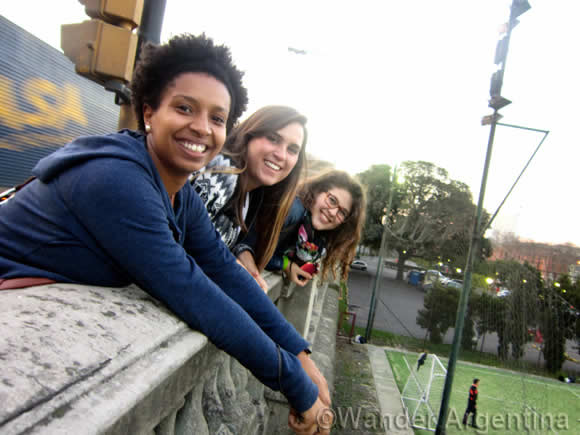 The unsettling discovery that you have fewer pesos than you anticipated can happen often for students living on a tight budget in Buenos Aires.
Monetary dilemmas, such as where to eat lunch or do laundry cheaply and how to save for a weekend trip or a night out with friends constantly haunt the student without a job. Pesos seem to vanish as expenses that weren't factored into the budget — buying cell phone credit, reloading a SUBE card and purchasing school supplies — add up.
But with some creativity, students can enjoy Buenos Aires while saving pesos to put toward the next beer or trip across Argentina.
How to Save Money Going out
When a night out doesn't end until the sun rises, the nightlife of Buenos Aires is a college student's dream but it can leave the wallet bruised and battered. While Buenos Aires is usually cheaper than one's home city, the price of club door fees and drinks can add up quick.
Buenos Aires bars and clubs often offer promotions on certain nights or before a specific time on the weekend. These are easy to find — check the bar or club's website or simply take the wristbands or fliers that promoters hand out in popular nightclub areas such as Plaza Serrano in Palermo.
Arrive early to clubs, as door fees can usually be avoided if you arrive before midnight. If there is an entrance fee, it can usually be used as a voucher for drinks once inside. If going out with a large group of foreigners be aware that some clubs will overcharge student groups at the door.
Clubs and bars will vary on prices depending on the neighborhood. Recoleta and Palermo are touristy barrios, so explore other Buenos Aires neighborhoods when going out if you want to avoid the inevitable tourist mark-up in trendy areas.
To make the student budget stretch and save a lot of money on drinks, go to the local grocery store and buy alcohol for a fourth of the price. Have a pre-party or previa at one of the city's many plazas with friends and then hit up the bars and clubs.
When you buy beer in the supermarket, you'll notice a charge for the bottle. Ask for the receipt (called a recibo or ticket) —  you can get your money back by returning the used bottle, or envase. This also applies to glass soft drink bottles with yellow lids.
Argentines go out until the wee hours and tend to pace themselves — their goal is not to get completely drunk. Take a tip from the locals by moderating your drinking and sharing a bottle of beer or wine instead of ordering higher-priced cocktails.
Food: How to Eat Cheap
Being a broke college student doesn't mean one has to eat like one.
Buy food for a week, or at least for a few meals, at the grocery store to save more money rather than eating out everyday. Neighborhoods such as Barrio Chino, located in Belgrano, offer cheaper groceries. One also can find cheaper goods, anything from dried beans to cleaning supplies, at weekly neighborhood fairs. For more information and locations, click here.
Stock up on fruit, olives, lunch meats, cheese and bread for easy lunches. Buy fruits or nuts to carry around, as it can be hard to find nutritious food in kiokos (convenience stores). Be aware that some food that is normally cheap at home such as Ramen noodles or canned tuna can be relatively expensive in Argentina.  Stay away from expensive imported goods, and find a local alternative. Also keep in mind that food prices increase often, so if something is at a lower price than normal, buy in bulk.
For those days when you have no time to go grocery shopping, you're hungry and late for class, grab an empanada or sandwich from a bakery rather than a café or restaurant. Bakeries sell servings of tartas (savory quiche-like pies made with eggs, chard, pumpkin, or ham and cheese) empanadas and salads. All are a relatively cheap and easy lunch options if in a hurry.
Free and Low-Cost Activities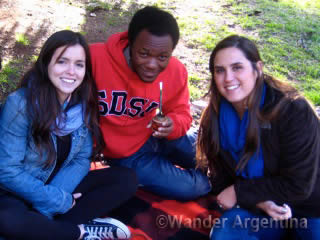 Put your student ID to good use by using it to get free or discounted tickets around town.
Most museums and some events offer reduced admission with a student ID, such as the Latin American Art Museum of Buenos Aires, where students enter for free on Wednesdays and for half-price every other day. The World Tango Museum admits students for free on Wednesday and the National Fine Arts Museum is free everyday. Fundación Proa has a discounted entrance fee for students.
For free ways to see the city, make a day of visiting a park, plaza or fair. On a weekend afternoon, stroll around the Ecological Reserve, drink mate in the Rose Garden or rent rollerblades in the Bosques de Palermo.
There are plenty of free sites to see in Buenos Aires, such as the Recoleta cemetery, head downtown to wander around the Obelisk, or walk around Puerto Madero and La Boca.
If looking to visit craft fairs, make sure to check out the Recoleta, Mataderos or San Telmo Fairs on the weekends. You'll be able to find street food for an inexpensive lunch as well as listen to live entertainment.
Making a night of the movies can also be a cheap form of entertainment for students. Most theaters offer half price tickets on Wednesdays. Coupons for movies also come with utility bills or can be found at PagoFacil and Rapipago locations, ask your hostfamily if they have any coupons you could use.
To see new Argentine movies for cheap, check out Gaumont Rivadavia in Congreso (Rivadavia 1635). For popular releases, Cinemark offers promotions such as half price days or two-for-one tickets by texting a certain number. This information is available at the theater. For a current list of promotions, visit the Cine Argentino website.
A list of upcoming and mostly free city events including shows and concerts and annual events are found on the Buenos Aires city website.
Saving Money on Transportation
Avoid having to scrounge for coins before every bus ride by purchasing a SUBE Card. The smart card allows cardholders to take public transportation without buying subte tickets or paying with coins on the colectivo (bus). This saves time and money as the fare without a SUBE card has increased for buses and trains. Read about how to get a Sube card.
Buy a Guia T to learn how to use the Buenos Aires bus system and only use taxis as a last resort. Though the cost of one ride in a taxi doesn't appear to be too expensive, it quickly adds up, especially if traveling from one end of the city to the other. With the cost of a bus ride just a few pesos, it is worth the wait – you can always use your time wisely and study in transit.
To avoid spending any money on transportation at all, sign up for Mejor en Bici. It is easy to sign up and is a free way to get across town without having to walk or spend money.
Air fares in Argentina have a two-tier pricing system, with higher ticket prices for tourists and a lower prices for Argentines and those with legal residency. Those with a student visa qualify for the lower price, so be sure to mention this when booking tickets.
Even with the discount, air travel is expensive in Argentina, so travel by long-distance bus rather than a plane to really travel on a budget. For cheaper fares, choose the semi-cama chair. Though the chair doesn't fully recline, travel of relatively short distances such as to Mendoza or Cordoba are bearable.
Using Cell Phones Wisely
For those who are not used to paying per text or minute, pay-as-you-go phones can eat up a lot of pesos. With most cell phone plans, sending a text rather than calling is the cheaper form of communication, so save money by texting instead of calling. Pay attention to promotional texts you receive — by purchasing a certain amount of credit on special days, you can sometimes double the amount you buy.
If you absolutely have to make a call, it is less expensive to call from a locoturio (a kiosk with phone cabins) than from a cellphone. You will usually be charged AR$.50 every couple of minutes — the same price as a normal land line call.
Some cell phone companies also offer one or two free numbers, but it isn't often advertised. Ask your cell phone company, whether its Movistar, Personal or Claro to see if they offer this service.
— by Rachel Aretakis
Comments
comments