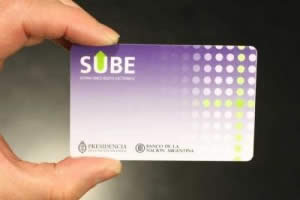 *Update: Subsidies will be lifted for those without the SUBE card
SUBE cards, introduced in February 2009, are rechargeable cards that can be used to pay for the subways, buses and trains in Buenos Aires.
This modern system has helped to alleviate the notorious —but often necessary —local habit of obsessively collecting small change to pay for transportation.
After a January 2012 increase in the price of the subway, the government announced that only those that had the SUBE card would continue to receive the current citywide subsidized fares on public transportation.
Thousands rushed out to get their SUBE cards, waiting in long lines in the sweltering summer heat outside the designated SUBE card collection points to get their cards before the announced February 10th deadline.
Long lines and delays were caused by a time-consuming process of linking each card to an identity document. Suppliers also ran out of the cards, meaning many waited in long lines only to be informed that no more cards were available.
Next, it was announced that SUBE cards could be applied for online and delivered by mail, but the system was faulty and bogged down by applications, leaving many wondering if they were ever going to receive their cards.
In a press conference on February 9th, Transport Secretary Juan Pablo Schiavi blamed the problems on the citizens saying, "Argentines always leave everything to the last minute." He went on to extend the deadline until March 2nd.
In the same press conference Schiavi hinted that they had received many illegitimate online applications by pranksters (or activists opposed to the program), which caused the delays.
SUBE cards can no longer be applied for online.
Fare Increase for Non-SUBE cardholders?
As of June 2012, almost 11 million people have received a SUBE cards. There has been no price increase to ride on city buses and the cost of the subway also remains $2.50.
Although there is currently no difference between the price for SUBE cardholders and those paying in cash, there are rumors that subsidies will be lifted for non-cardholders later this year.
Considering the proposed increase, anyone staying in Buenos Aires for a few months or more may want to get their SUBE card, if they haven't yet done so. Aside from the proposed fare increases for those who don't have the cards, they are also more environmentally friendly as they cut down on litter and allow buses to load quicker, cutting down idle time at bus stops.
Despite the benefits of the new system, some citizens are concerned that the cards are an invasion of privacy and allow the government to track the movements of SUBE users.
There is now a cost of $10 to obtain the SUBE card. Check this post to learn how to get a SUBE card.
—Rosie Hilder
Comments
comments