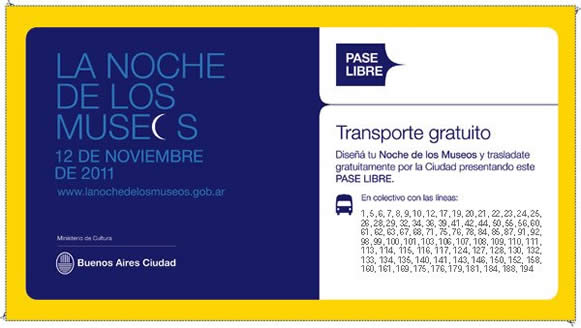 La Noche de Los Museos is a special night for art and culture fans in Buenos Aires. The city-wide event lasts only 7 hours but is planned throughout the year.
One-hundred and eighty museums open their doors to invite in the public to peruse art and see live entertainment for free every November around the 10th from 8 p.m until 3 a.m.
To receive free transportation print out the Transporte Gratuito flyer provided by the city at their link below.
Another option for those signed up with Mejor en Bici is to borrow a bike to get around the city, as the free city bikes are now available 24 hours a day.
On the La Noche de Los Museos page you can do a search by museum or neighborhood and download a pdf of the various events.
La Noche de Los Museos
Nov 4, 2017
8p.m — 3a.m.
Across Buenos Aires
Comments
comments