The city of Buenos Aires public bike program, EcoBici (formerly Mejor en Bici, or Better by Bike) provides an ecological, healthy and fast alternative to traditional public transportation.
Bright Yellow Bikes
Since late 2010 the yellow bike depots have sprouted up around Buenos Aires as part of the municipal initiative put into effect by then-mayor and now president, Mauricio Macri. The program allows for free bike usage by any city resident or even visitor.
The yellow —and now fully-automated— stations are primarily downtown but extend north to Palermo and other further away neighborhoods. The stations are strategically interconnected by freshly painted bike lanes known as bicisendas. The program is designed with locals in mind, but with very little paperwork the bikes are also available to resident and visiting foreigners.
The main limitation is that bikes can only be borrowed for one hour at a time during the week, as the program is designed primarily to provide public transport and aid commutes rather than spontaneous leisure riding. Situations in which the bright yellow bikes may be helpful include: transport to work, running errands, transport from neighborhood A to neighborhood B, or to get some exercise during an office lunch break.
On the weekends the usage time of the bikes extends to two hours, amd users can now also return a bike, wait five minutes and check out another one at any time.
The program no longer provides helmets, so users will have to bring their own if they want to use one.
Join the EcoBici program 
The steps to getting with this program are (1) fill out the EcoBici registration form online here or download the BA EcoBici App and follow instructions.
(2) head to your local registration office in your 'comuna' (zone) to present your i.d. and get your Vos smartcard. To see the list of Buenos Aires comunas and their address click here.
You can also register directly in person at the local comuna by asking for a turno (appointment) online or by calling 147. Once it's time for your appointment, you will need to bring a documento (ID) and proof of a local address.
For the documento:
• Those with a current DNI, (Argentine identification card), bring the DNI and a photocopy
• Those without a current DNI, bring a current passport and a photocopy
For proof of address:
• Those with a utility bill in their name with their local address should bring the bill or factura de servicio and a photocopy
• Those who don't receive bills at a local address should bring a current certificado de domicilio (address certificate) and a photocopy.
—To obtain the address certificate, one must visit the police station closest to their address during office hours. Arrange a time in which a police officer can come to the residence, and wait there during those hours to receive the certificate. The certificate costs a nominal fee.
EcoBici Registration for Tourists
Tourists who are on a valid tourist visa can now use EcoBici without providing a permanent local address. Just take your passport with one photocopy, your hotel, hostel or local rental apartment address and a valid telephone number and head to your local Comuna registration center to sign up.
After presenting the above paperwork, the EcoBici staff will enter the information into the system, have you sign a liability release form, and take a picture for the program ID.
Once you are registered, using EcoBici is fairly easy, although finding available bikes can be a challenge at peak times.
To get a bike you need to:
(1)  locate a convenient automatic bike station nearby and check EcoBici bike availabilty online or on your phone (2) head to the station at any time of day to get your bike (3) using the EcoBici app linked above or your VOS smartcard to unlock the bike, or call 0800-333-BICI (2424) ext. 147 and follow the instructions.
EcoBici Usage Guidelines
Penalties for late bike returns include a one week suspension of use for the first offense, two weeks suspension for the second, and so on. If a user is tardy a fourth time, all bike privileges are indefinitely revoked.
Users beware — the EcoBici workers cannot be schmoozed into pardoning transgressions. The program's computer system clocks the hour of use and automatically penalizes users, depending on the number of late returns it tracks.
Word on the Bike Path
While program participation is possible for foreigners, it is more fit for those living in Buenos Aires long-term and probably not worth the trouble for visitors of less than a month. Consider booking a fun Buenos Aires bike tour of the city in order to get to know the city's neighborhoods and landmarks with friendly local guides.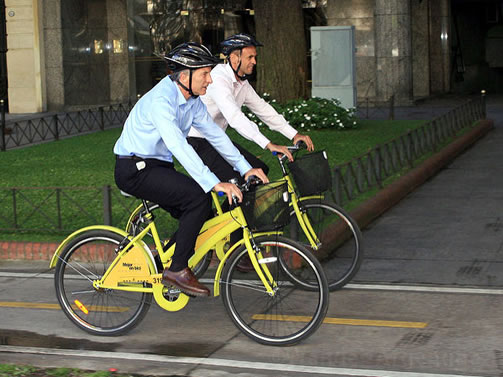 Critics of the EcoBici program initially complained that the one-hour policy is inconvenient, so the local government has increased the usage let time to two hours on weekends and holidays.
EcoBici users find the program helps them save money, as Subte (subway) and bus costs creep upward, while others appreaciate that it saves time usually spent on the Subte or sitting in traffic.  Yet others say it's a great method of exercise and a more ecologically friendly way to travel to work.
Fernando Garcia borrows a bike 3-4 times a week from the Parque Lezama station in San Telmo. "I do it for two reasons: exercise and time. With my work hours, this is the only exercise I manage to get during the week," he says. "While the bus takes 45 minutes, biking takes only 30."
—Catherine Wright
* Updated 2018
• Operating Hours:
Now that the bike stations are automated, you can get a bike 24 hours a day, 365 days a year
• This link lets you see if bikes are available in real-time
• Price: Free for 1 hour at a time
• Penalty for late return:
-First tardy: One week suspension of use
-Second tardy: Two week suspension of use
-Third tardy: Three week suspension of use
-Fourth tardy: Program privileges revoked
• If you have problems returning a bike call 0800-333-BICI (2424) or use the BA EcoBici app to look for another station where there are free spaces to leave your bike.
Comments
comments