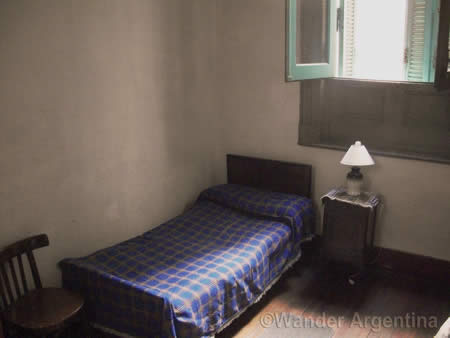 Whether you're staying in Buenos Aires for one month or indefinitely, finding a place to live can bring unexpected challenges and surprises.
Wander Argentina presents the pros and cons of the seven most common living situations that tourists, students, and foreign workers are bound to encounter in Buenos Aires.
Living with a señora or family
Many Argentines open their homes to foreigners, renting a spare bedroom or two as a way to earn extra income. The most common homestay hosts are an older woman (a señora) about 50-60 years of age who lives alone, an elderly married couple, or a family with young children. These landlords almost exclusively rent their rooms to female students, and they usually have strict rules about visitors (e.g. you must ask permission to have friends over, and NO overnight visitors — ever. And if you have a romantic life, well that's why telos exist).
These setups work best for visitors looking for extended stays of three to six months. Renters can look forward to a fully-equipped home or apartment in a variety of neighborhoods, giving them a comfortable home base while studying, visiting, or working. However, don't expect to automatically befriend your host; many renters report encountering a cold or indifferent attitude from their live-in landlords, who sometimes see tenants as walking ATMs instead of people. Check here to read some Argentina homestay tips.
Pros: full amenities; maid service; cheaper than a hotel
Cons: strict house rules; indifferent landlords
Finding an Argentine friend with a garantía
Renting apartments in Buenos Aires can be expensive — especially if you don't have a garantía, or a credit guarantee from an Argentine bank that protects your landlord in case you skip town without paying rent. Typically only Argentines will have garantías, and the vast majority of landlords require them, so finding an affordable apartment can be tough without an Argentine friend who has a garantía (or, perhaps more accurately for the under-40 crowd, an Argentine friend whose PARENTS have a garantía).
If you are lucky enough to know an Argentine who has a garantía at their disposal, you will have a much wider and affordable range of apartment options if you're willing to sign a two-year contract. Given that many Argentines live with their parents to save money or cohabitate with a boyfriend/girlfriend, this option is difficult to come across for newcomers.
Pros: cheap rent; living with a friend; no landlord
Cons: slightly better odds of finding a unicorn; two-year contract usually required; you'll have to buy furniture and probably some appliances such as a refrigerator.
Rental Apartments for foreigners
Trendy neighborhoods such as Palermo, Recoleta, and San Telmo offer a wealth of beautiful, expensive apartments aimed at foreigners who earn income abroad or come to Buenos Aires on vacation. The cheapest studios start around US$650 USD a month, while one bedrooms can rarely be found for less than US$700. For short stays, expect to pay between US$800 and $1,100 a month for a furnished one-bedroom apartment.
In general, these apartments are good to high-quality with maid service and Wi-Fi, and many offer additional amenities such as a doorman, pool, or onsite gym.
Landlords typically require at least one month's rent upfront and one month of security deposit, and many require you to pay the rent in dollars, which are difficult to obtain in Argentina. If you run out of dollars and want to pay your rent in pesos, don't expect to pay the official value, of 4.7 pesos to the dollar —most landlords will demand the 'blue dollar' price, which as of this writing is 6.3 pesos/dollar. If you're staying for more than a month, try to negotiate a rate in pesos that is somewhere between the official and blue dollar rate. Otherwise, if you're not happy with the price, look for another landlord who is willing to negotiate or find a landlord who accepts pesos at the official value.
Pros: quality; location; short-term commitment
Cons: expensive; (sometimes) greedy landlords who keep deposits
Student apartments
The high number of universities in Buenos Aires has attracted an influx of foreign students looking for cheap study-abroad options. As a result, demand for housing in the city is very high, and landlords have the freedom to charge inflated prices for apartments that can vary widely in quality.
A typical student apartment has three to four bedrooms and is located reasonably close to a major university such as the University of Buenos Aires in Palermo or UADE and UCA in San Telmo. Landlords choose the roommates but typically exert little day-to-day control over the apartment, letting roommates choose house rules about visitors and parties for themselves. In exchange for this hands-off approach and cheap rent ranging from US$300-450, renters often find themselves in lower-quality apartments with furniture and living spaces that have seen better days. Better apartments can certainly be had, but they're not cheap; expect to pay anywhere between $500-600 a month to rent a room in better student apartments in popular neighborhoods.
Pros: roommates from all over the world; convenient locations; short-term commitment
Cons: you get what you pay for; can be a challenge if you need to study
Shared houses (casas compartidas)
Shared houses operate pretty similarly to student apartments, except that renters share an entire house with several bedrooms (usually between five to seven). These types of houses tend to attract students as well as workers, with the mutual understanding that buena onda (good vibes) is essential to happy living.
Rules in shared houses vary widely. In some houses, landlords live on premises and will make sure that renters don't throw wild parties or damage the property. Other landlords only implement rules about visitors (e.g. no overnight visitors), while some let renters do as they please as long as they continue paying rent on time.
Shared houses can be a fantastic way to quickly expand your social circle, practice Spanish, and appreciate the joys of community living. However, if you have to get up early or don't like sharing spaces with people who may not subscribe to your standards of hygiene, this type of environment may make your life hell after a few months.
Pros: built-in social life; international array of roommates; affordable; month-to-month commitment
Cons: sharing doesn't always equal caring; high roommate turnover
Hostels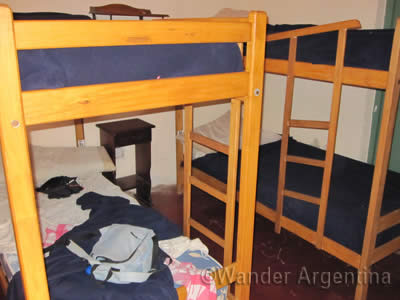 A number of hostels in Buenos Aires offer special deals for long-term stays of a month or more. The quality of these hostels varies significantly — you could find yourself in a bunk bed with six other people in a dark, musty room or in a spacious private room in a well-kept establishment, depending on the price you are willing to pay. The cheapest rooms (shared, with six or more beds) go for $150 USD per month, while beautiful rooms with a private bathroom and breakfast can be found for $500USD a month.
Depending on your privacy needs and budget, hostels can be a nice alternative to hotels or expensive rental apartments. Hosts usually provide a minimum of customer service, and a steady turnover of guests means there's always someone new to talk to. However, be aware that some hostels function more like casas compartidas, offering rooms to students and workers who are staying for a few months or more. It's important to do your research and find a well-rated hostel with a profile that suits your needs.
Pros: affordable; good customer service; interesting guests
Cons: you get what you pay for; living out of a locker can get old fast
Finding a Room in an Established Apartment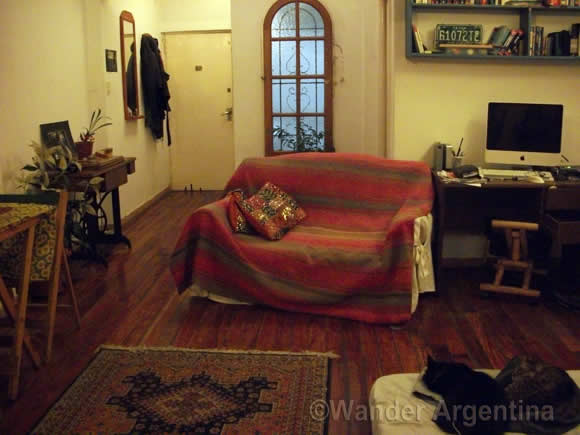 The final, and perhaps most popular option for longer stays, is to find a room in an existing apartment. Many young Argentines rent out rooms in apartment that their family owns. Sometimes the owners are foreigners. The majority of these people are friendly and looking to share their space long-term (usually a minimum of three months) with likeminded people who will respect the apartment and also be a good roommate.
Prices for these apartments generally depend on the location. Apartment owners in coveted neighborhoods like Palermo and San Telmo know that their apartments are in desirable locations and typically charge higher rent as a result. A search on Buenos Aires Craigslist or Deptocompartido.com will yield an abundance of listings in every neighborhood and at every price— both in pesos and dollars. If you find an advertisement listed in dollars, be sure to check whether the owner accepts pesos, and if they do, ask whether they accept the official rate, the blue dollar rate, or a price in between. There are plenty of people who charge fair rents in pesos, but it's important to ask and calculate your monthly budget in advance.
Pros:  comfortable living; 1-3 roommates; privacy
Cons: utilities may or may not be included; sometimes landlords ask for a long-term commitment (usually 3-6 months)
— by Lauren Stephenson
For a very inexpensive place to stay in Buenos Aires, check out the prices at the Victoria Hotel and make a reservation online!
Comments
comments