Alejandro 'Pechito' Ferreiro, Buenos Aires' most recognizable homeless person has died. The 40 year-old man lived next to the entrance of a Banco Frances at Scalabrini Ortiz and Santa Fe in the well-off Palermo neighborhood for 12 years.
There, he etched out a personalized living space on the sidewalk, complete with a mattress, lounge chair, radio, working cable TV, decorations and, most recently, a makeshift karaoke machine.
After waking up early in the mornings, Pechito watered down the sidewalk and then passed his days chatting with passerby's and smoking while listening to radio in the morning and watching TV in the evening. The corner, near the Scalabrino Ortiz subway stop on line D, provided a stinging contrast of wealth and poverty, as well-dressed residents shuffled in and out of the bank, dodging Ferreiro and his dogs.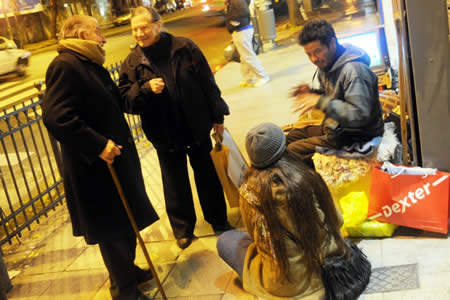 Ferreiro described himself as a 'privileged hobo.' A trademark of 'Pechito's corner' was the strong smell of incense, which he burned for the benefit of pedestrians.
According to La Nación newspaper he was once a construction worker and had his own apartment, but lost everything due to a cocaine addiction. He told the paper that he no longer took cocaine after ending up on the street, although he did drink.
In addition to receiving donations of spare change and food from passerby's, he sometimes made a little money doing paperwork at the bank for neighbors who were short on time. But, having dropped out of school at 15, Ferreiro could never get back on his feet.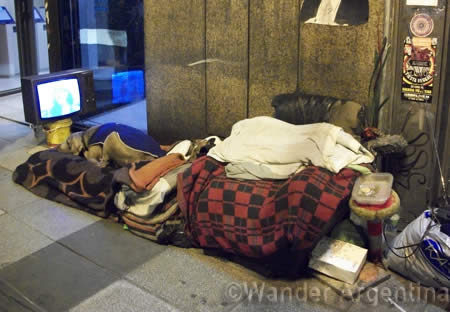 He died of a lung infection at Hospital Rividavia.
Neighbors, many of whom accepted Pechito as friendly neighborhood fixture, are organizing to try and find homes for his two dogs, Pechín and Galo.
Legislator, María José Lubertino denounced the city government for abandonment in relation to the case and according to Clarín newspaper plans to file a charge of culpable homicide.
According to Pagina12, Ferreiro was found beaten up and nearly naked in a grassy area near San Lorenzo stadium last Sunday after having been taken away by the city's social service program, Buenos Aires Presente several days earlier.
Conspiracy theorists are coming forward to claim that the city's right wing Pro party wanted him off the heavily-trafficked corner and had him killed.
By all accounts, Ferreiro always refused to go to a homeless shelter because he didn't want leave his beloved dogs behind, but he appeared ill for a number of months previous to his death.
To read more about Pechito in Spanish and see more photos, see the blog, Letras Desatendidas.
Comments
comments