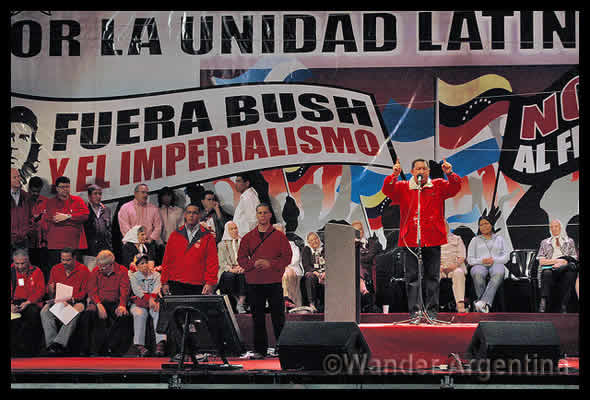 One of Argentina's most loyal supporters in recent years, Venezuelan President, Hugo Chavez has died at 58, the result of an almost two-year battle with cancer.
Chávez served as president of Venezuela continually since 1999, only briefly losing control after a failed coup d'état in 2002 (see video, below).
Chávez worked closely with former Argentine President, Néstor Kirchner, helping to pull the country out of its 2002 financial crisis, providing oil and purchasing Argentine debt.
Chávez immediately flew to Cristina Fernández de Kirchner's side  upon her husband's death in 2008 and has been one of her most loyal supporters throughout her presidency.
Upon receiving the news of Chávez's death, Kirchner declared three days of national mourning in Argentina and flew to Caracas.
Anti-Imperialism and Venezuela's Fight Against Poverty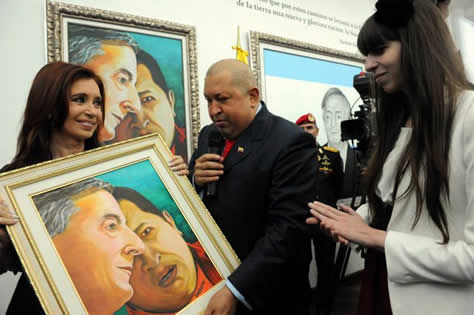 During his 14 years in power, Chávez renationalized Venezuela's oil sector and tripled spending on social programs. Poverty in Venezuela was cut in half, unemployment fell, and access to healthcare increased. The country also suffers from high crime, infrastructure failures, and fiscal deficits.
Venezuela's freewheeling social spending extended beyond its borders, including a 2005 Citco/Petroleós de Venezuela program to provide heating to hundreds of thousands low-income families in the United States.
Chávez started the program while his nemesis, President George W. Bush, held the U.S. presidency. Never one to mince words, Chávez once referred to Bush as 'the devil' in front of a snickering audience at U.N. National Assembly.
Chávez warmed up to the U.S. somewhat with the arrival of Barack Obama. Before Obama won office a second time, Chávez said, "I hope this doesn't hurt his campaign, but if I was from the United States I would vote for Obama."
Argentina & Venezuela: Cozy Relations
Argentina has 39 bilateral agreements with Venezuela, more than with any other nation.
Venezuela imports nearly 2 billion dollars of Argentine products including leather, beef, machinery and poultry. In return, Argentina sends agricultural experts and technology to facilitate Venezuela's agrarian growth.
Under Cristina Fernández de Kirchner, Argentina's policies — and challenges — have begun to mimic those of Venezuela
It was no surprise that Venezuela was one of few nations that openly expressed support for Argentina's 2012 renationalization of Spanish oil company, YPF. Following the Chávismo model, Kirchner has also increased spending on social programs in Argentina and created policies that led to runaway inflation. Price controls in both countries have occasionally led to food shortages. Kirchner, like Chavez, has been increasingly criticized for a lack of government transparency and been plagued by questions about how she amassed considerable personal wealth.
As in Venezuela, poverty nation-wide in Argentina has decreased under Kirchner. Kirchner and Chávez have both been accused of limiting freedom of the press, and lashing out at critics. Oddly, while poverty has fallen under both leaders, street crime has also increased, although in Venezuela the crime increase is mostly seen in opposition-held areas.
Chávez was also accused of covertly bankrolling Kirchner's 2007 re-election campaign after Venezuelan businessman, Guido Antonini Wilson, was caught entering Argentina with US$ 800,000, although no charges were ever filed. Chávez also openly supported Argentina's claim to the Malvinas/Falkland islands.
Although the international press often maligned Chávez, frequently calling him a dictator he was democratically elected three times. Former U.S. President, Jimmy Carter oversaw the 2012 Venezuelan elections and later said, "Of the 92 elections that we've monitored, I would say the election process in Venezuela is the best in the world." The electoral process in Venezuela is fully electronic, using fingerprint recognition technology and touch screen ballot boxes.
Before beginning his third term, Chávez won a referendum to change the Venezuelan constitution to allow unlimited presidential terms. Kirchner's allies have also worked to change the Argentine constitution so that she could be allowed to run again, although she has announced that it is not on her agenda.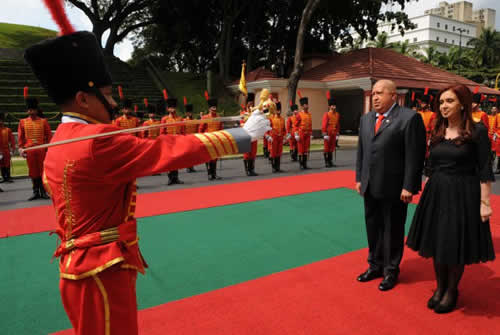 As with Venezuela, Argentina's recent relations with Iran have caused international concern. Iran and Argentina recently created a joint Truth Commission to investigate the 1994 AMIA attack in Buenos Aires, despite the fact that eight Iranian government officials were indicted in the attack in 2006.
A recent military agreement between Argentina and Venezuelan has also been criticized after the Venezuelan company involved in the agreement, Compania Anonima Venezolana de Industrias Militares (CAVIM), was sanctioned by the U.S. for violating the Iran Nonproliferation Act.
With his failing health in recent years, Kirchner and Chávez stopped meeting quarterly, as they did at the beginning of her presidency.
Kirchner herself has gone in the direction of demagoguery, recently giving an unprecedented three-hour speech. The length of the discourse and the rhetoric within was reminiscent of the long-winded sermons Chávez was famed for, although few world leaders could ever top Chávez's oration skills.
The last time Kirchner would see her faithful ally was in Cuba, the country of Chávez's mentor, Fidel Castro, where Argentine Che Guevara helped usher in the Cuban Revolution.
Venezuela will hold elections within 30 days, but the country has an uncertain fate. With the close relations between the two countries, Chavez's death will have a resounding effect for Argentina's future as well.
*                                     *                                       *                                   *
The Revolution will Not be Televised is an Irish documentary about the failed 2002 coup d'état of Hugo Chavez that gives an inside look into Chávez's presidency.
Comments
comments