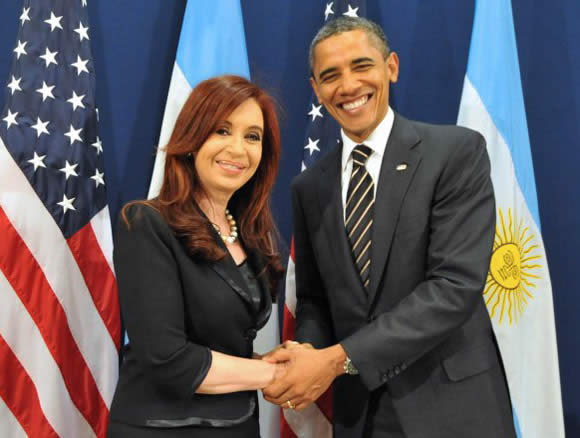 President Cristina Fernández de Kirchner and the majority of citizens of Argentina breathed a sigh of relief today after United States President Barack Obama won reelection.
President Kirchner sent Obama a letter of congratulations that read in part, "Argentina and the United States have maintained friendly relations since the era of colonialism that subjugated our regions…We will always be with you in the building a world which is just, less violent, with more equality and less disparity."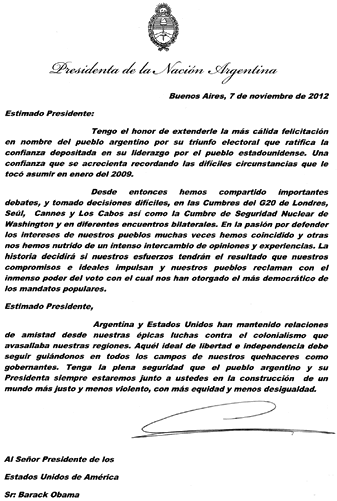 Kirchner's first tweet after it was confirmed Obama won began with a somewhat cryptic dig at her opposition: "Lie, Lie, Manipulate, Manipulate, but truth and democracy continue to be defended in the ballot box, and in the USA as well."

The two world leaders had significant face time at the 2011 G-20 summit in Cannes, France. In his address at the conference Obama said, "It's wonderful to be with the President of Argentina; she is a great friend to the United States. We've spent considerable time together here at the G-20 summit and I want to thank her for the dedication, commitment and passion that she has brought to our meetings in discussing global issues."
In her G-20 address, President Kirchner discussed U.S. investment in Argentina and the symbiotic relationship between the two countries' economies.
"These relationships bring us together in a profound manner. Between the President and myself, on the personal level — he is a lover of science, technology and innovation, along with myself."
She went on to highlight the creation of the Science and Technology Ministry in Argentina while under her leadership and said that both she and Obama are concerned about global climate change as demonstrated by Argentina's joint project with NASA to send a satellite into space to monitor the climate.
Kirchner's final comments at the summit affirmed a bilateral concern about terrorism and narco-trafficking. After the U.S., Argentina has the highest drug consumption in the Americas.
Last week the Argentine newpaper, El Perfil reported that polls showed Obama is more popular than Kirchner among Argentineans.(link:Spanish)
The Silence of Buenos Aires' Mayor Mauricio Macri
Buenos Aires mayor, Mauricio Macri was strangely quiet after Obama's reelection. Currently Buenos Aires is suffering a heat wave that has caused electrical outages throughout the city. A simultaneous garbage strike in the capital means that residents are having to content with smelly piles of garbage lining the sidewalks.

In the last few days Macri's tweets were all about Argentina's favorite sport, soccer. He also mentioned the Robert Plant concert that took place at Luna Park and later in the evening mentioned meeting the rock band Kiss before their concert in the city.
After Obama's win was confirmed, the only thing he sent out over Twitter had to do with Thursday's protest in Argentina against the country's current federal administration.
While the reelection of Obama admittedly does not affect the city of Buenos Aires much, Macri has indicated he is interested in assuming the office of the Argentine presidency.
Other politicians, including Juan Abal Medina, immediately responded to Macri's tweet in support of the protest, criticizing him for a lack of leadership in dealing with current problems in the city.
Other Argentina-U.S. Election Connections
The US state of Arizona also saw the reelection of Sheriff Joe Arpaio, known as 'America's Toughest Sheriff.' He is criticized for racial profiling of Latinos and his tough stance on immigration.
Arpaio was stationed in Argentina by the Drug Enforcement Agency during Argentina's brutal dictatorship.
Comments
comments