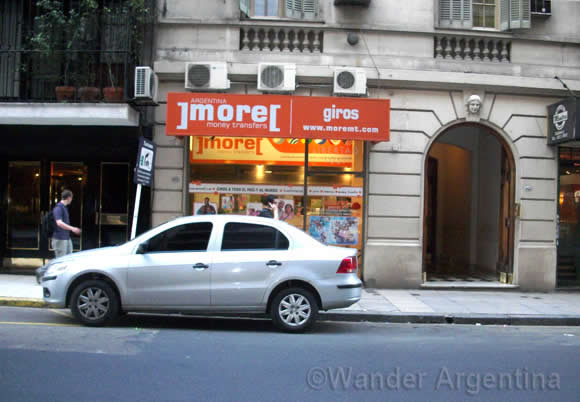 For visitors or those living in Argentina it has once again become painful to withdrawal money from ATM machines now that the so-called 'blue dollar' is back.
Not only do you get the official rate (which is about 50% of the black market rate for foreign currency) you also get low withdrawal limits and high atm fees.
Depending on how you handle money in Argentina you can live like royalty or a pauper, so visitors shouldn't ignore learning about the parallel currency situation.
Get Argentina's 'Blue Rate' Without Hard Currency
Those who didn't come to the country with foreign cash (as we recommend in the post linked above) can still take advantage of Argentina's parallel currency market by using a money transfer service that gives out the 'blue rate'.
A few of them allow those who have an overseas bank account to receive an amount close to the blue rate (and avoid high atm fees).
For a few months many people were using Western Union to get pesos at the 'blue rate', but a new service, Remitly offers better rates, lower fees and has a much easier signup that doesn't require a lot of information — plus you can get $20 free the first time you use it.
Doing the math to calculate the difference between Remitly and Western Union, Remitly charges a $2.99 for a transfer of $100 while Western Union charges $10 for the same amount. Western Union generally charges about 10% on any amount, while Remitly fees go up one dollar from $2.99 for every $100 sent.
Steps for Remitly Virgins
1. Sign up with Remitly here.  Enroll with an address in the country where the account you are sending from is (usually your home country).
2. Chose a sending option, either from a U.S. bank account or debit card for delivery to an Argentine bank account or for cash pick-up. The debit card option is a couple of dollars more, but quicker.
3. Fill out the information for the person receiving the money. If you are sending money to yourself, be sure that the name you put as the receiver matches exactly. Put the Argentine address that matches your documents, or your hotel if you are just passing through.
4. Chose the payment information. Before you do this step be sure you have your home address registered on the account with your bank.
5. Check the details carefully, being sure there are no discrepancies and authorize the transfer.
Tips to Wire Money Successfully
Some Remitly users in Argentina report having problems the first time. This is presumably due to stringent U.S. and international laws to prevent money laundering. Because of the current health situation remittance offices may not be operating within normal business hours, so don't wait until the last moment to make your transfer.
To prevent any problems, start with a small amount first such as US$100 or $200 and be sure that all the information is correct and matches your I.D.

Remitly User Tips
• Send a smaller amount for the first transaction, not thousands of dollars, as you may have to produce more paperwork to send a high amount.
• It works better if a U.S. resident is sending you money, at least most students report no problems getting money from their parents.
• Those in Argentina with a U.S. bank account can send money to themselves, but be sure that the U.S. bank account is associated with a U.S. address. If not, call the bank and add a U.S. address to the bank account.
• If in Buenos Aires, the most reliable and convenient place to pick up the money for most is at More Money's main location at Libertad 1057, downtown.
• Amounts over AR$50,000 may be harder to process. Again, it is better to send smaller amounts at first.
• In the unlikely event you get an email indicating the transaction is delayed be proactive in calling their customer service at 1 (888) 736-4859 to get it handled.
• When you go pick up your money, bring copies of the same documents (ID) that were requested during signup.
• There is a U.S.$2,999 transaction limit and a U.S.$ 6,000 a month limit.
• By clicking our affiliate Remitly link you get a $20 sign-up bonus.
 Buenos Aires More Money Pick_up Locations
More Money –Tribunales
Libertad 1057
Recoleta
Operating Hours: Mon-Fri. 9 a.m — 6 p.m.
Migueletes 1995
Belgrano
Operating hours: Mon-Sat, 10 a.m. — 6 p.m.
Olazabal 1725
Belgrano
Operating hours:Mon—Fri, 9.30a.m.— 6 p.m.
Virrey Olaguer y Feliu 2676
Belgrano
Operating hours: Mon—Fri, 9a.m.—6p.m., Sat: 9 a.m.—1p.m
Tucumán 983
Microcentro
Operating hours: Mon— Fri, 9 a.m. — 6 p.m.
Av Corrientes 1711
Congreso/Balvanera
Operating hours:Mon—Fri: 9 a.m.—7 p.m., Sat. 9a.m.—3p.m.
Salta 1756, store 19 (inside the station)
Constitución
Operating hours:Mon—Fri 10 a.m. —8 p.m., Saturday,Sunday,Holidays: 10 a.m. —6 p.m.
Rodriguez Peña 133
Congreso
Operating hours: Mon. —Sat. 10a.m. -7 p.m.
What if You can't Wire Yourself Money at the Blue Rate?
Those who don't have a bank account that works with Western Union or Remitly for whatever reason may have to resort to using the more circuitous bitcoin or other crypto-currency to get the blue rate.
Beyond, that the only other wire money options are transfer services such as Transferwise which  we mention on Wander Argentina.com. While Transferwise has low fees unfortunately gives out a rate that is closer to the lower 'official rate,' so only use it if your desperate to skip the ATM fees but don't mind getting the official rate for your money.
Comments
comments