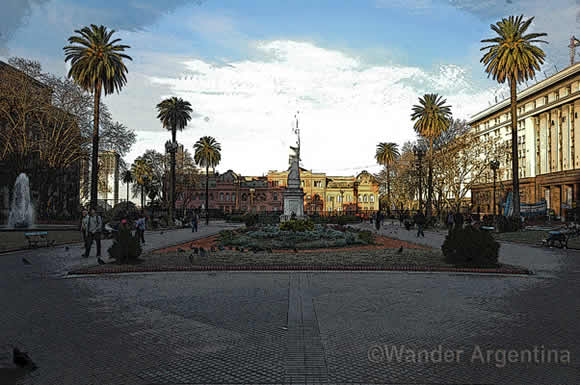 Having a recognized TEFL qualification of any kind can open doors in Argentina, help to land a job and boost confidence in the classroom. After gaining an understanding of all the ESL acronyms, choosing the right course is important because the multitude of certification programs can vary greatly in quality. While there are a staggering amount of teacher preparation programs available, some are more reputable than others.
Cambridge CELTA: Certificate in English Language Teaching to Adults
The CELTA is a teaching certification that is administered by the University of Cambridge and taught in language centers worldwide. Perhaps the most internationally recognized teaching qualification, the CELTA is the only English language teaching certificate that many schools accept. The benefit of the CELTA program is that it is standardized so employers know what to expect in terms of a candidate's teaching ability and practice. The intensive four-week course is offered on both a part-time and full-time basis and is known for its rigorous curriculum. This course is best for those with some prior teaching experience, but can also be taken by brave newcomers to the field. As one of the most sought-after certificates, the CELTA comes with a relatively hefty price tag.
Trinity CertTESOL: The Trinity College London Certificate in Teaching English to Speakers of Other Languages.
This program is validated by the Trinity College London and is similar to the Cambridge CELTA. This program can be taken part-time for up to a year and full-time for four to five weeks. Available in many countries at Trinity validated program providers, this course provides a certificate that is respected worldwide. Course content is comparable to that of the CELTA and includes instruction on various areas of the field, written work and supervised teaching practice. It is offered for those with prior experience as well as newcomers to teaching.
Bridge IDELT: International Diploma in English Language Teaching
This program is BridgeTEFL's flagship certification course. It is a standardized intensive four-week course run worldwide only at BridgeTEFL Authorized Training Centers. IDELT is approved by the Accrediting Council for Continuing Education and Training and claims to qualify teachers for hundreds of teaching jobs worldwide. This program is for those with no previous English teaching experience, as well as for those with some experience but no formal training.
Other TEFL certificate programs
TEFL courses offer teacher preparation certificate programs, but are not standardized. When pursuing a TEFL certificate, it is important to investigate the specific organization's reputation and the material covered in the course work. TEFL certificate programs are a good option for those with no prior English teaching experience and are enough to qualify for most entry-level teaching jobs.
Other TESOL and TESL certificate programs
Like TEFL programs, TESOL and TESL courses are not standardized and are usually offered through universities. They are suitable for those with no previous English teaching experience looking for entry-level positions in the teaching field.
Online TEFL certificate programs
Online TEFL courses are a good choice because of convenience and lower costs, but it is important to research each organization's references, reputation, and specific curriculum. While some include additional onsite training options, most programs are conducted completely online and therefore lack the benefit of hands-on learning. Those opting to take online certificate courses should be wary about the quality of the program and the provided materials.
DELTA: Diploma in English Language Teaching to Adults.
The DELTA is worth mentioning as an advanced qualification run by Cambridge Assessment for teachers with several years of teaching experience. Covering advanced teaching methodology, the DELTA is like the equivalent to a master's degree in the TEFL world and can be taken full-time for typically two to three months or part-time for typically six months to a year. This program is really for those wishing to make a career in the English teaching industry.

Choosing the Certification Course
When choosing a certification course, remember that all TEFL/TESL/TESOL courses are not created equal. While many different programs exist, those that are approved by reputable external bodies, such as the CELTA validated by the University of Cambridge for example, or programs with a well-known reputation are preferred over lesser-known generic programs.
Research the quality of content and material, experience of the instructors, the time spent in the classroom, job search assistance and course length to chose the appropriate program.
Prospective English language teachers should also consider the length of time they plan on teaching to effectively evaluate the costs versus benefits of a particular program. Also important are the specific needs of those taking the course. Some programs could be a better fit than others, depending on if one is looking to teach young learners, business English and private classes or needs a few grammar tips and training in classroom management.
Those searching for a more serious teaching position such as a long-term contract job with a large school or institute, may consider investing in the CELTA, or a similar program, as it is a widely recognized standard among schools worldwide. A program such as the DELTA, on the other hand, would be overkill for expats looking to teach abroad for a year or two, as it's more for teachers looking to make a lifelong career in education or those looking to advance in the field.
Those looking to land an entry-level English teaching job in Argentina will find that a solid grasp of the English language and a general TEFL/TESL/TESOL certificate will do just fine.
—Valerie Sarron
Comments
comments