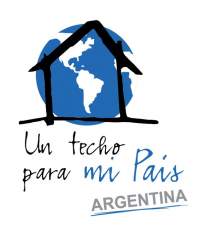 Visits to the outdoor markets in San Telmo, Palermo Viejo and Tigre, while obligatory for visitors to Buenos Aires, can sometimes leave you feeling like an anonymous tourist in a distant land.
If you really want an insider's view into life in Argentina you need to experience the people and not just the places the guidebooks lead you. So why not ditch the Lonely Planet and take advantage of the best guides out there: the locals?
A Roof for My Country
Un Techo para mi Pais is a non-governmental organization that, as its name suggests, builds houses for Latin America's poorest families. Under the motto 'Youth building a Latin America without poverty,' Un Techo para mi Pais utilizes a multi-pronged approach to aid poor families in 19 Latin American countries. There is no sign-up fee to volunteer — this is not an organization aimed at tourists.
All you need to volunteer is one Saturday morning: if you love it you can go as many times as you like, but there is absolutely no obligation to go again.
The bus meets the volunteers every Saturday (and only on Saturdays) at 8:00 a.m. at various points in and around Buenos Aires. The majority of volunteers are Argentinean students, meaning more often than not they have come straight from their Friday night out at the boliches, the Argentine night clubs.
In true Argentine style, the group leader arrives half an hour late allowing enough time for a power nap on the street corner. Once everyone is gathered, there is an hour-long bus journey to the town giving the group of about eight volunteers time to regenerate on mate and 'facturas' (Argentine pastries) provided by the group leader. After the bus ride volunteers are thrown into some of the poorest parts of the province of Buenos Aires to meet the families who know the most about Argentina's real economic situation.
Upon arriving in the town the group splits into pairs with a list of three house numbers each and three questionnaires to be filled out with the families. Spending about half an hour with each family, volunteers ask various questions about their income, health, education, and living conditions to determine how desperately they need a new house. Homes are built for those in the most dire situations first. Everyone meets back at the community center at about 1:00 p.m. for some mate before catching the bus back home in time for a late lunch.
At various points throughout the year volunteers also help in the construction of homes.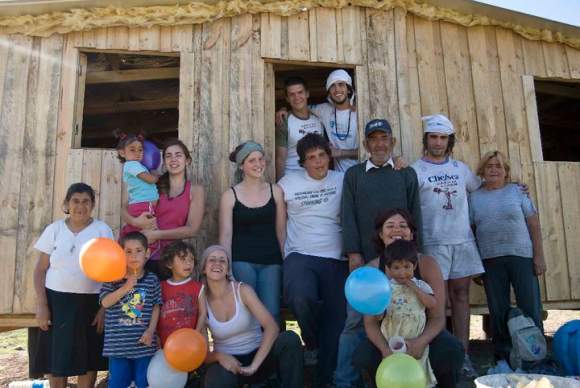 Empowering Disadvantaged Families
The aim of the non-profit organization is to build emergency homes for families who lack basic services such as water, electricity or sewage lines but this isn't straight out charity. Construction of homes is followed by a program of sustainable social support including health programs, education, business and vocational training and microfinance projects. They rely on donations from individuals and private businesses, gaining support from a collection every September, when the team of volunteers go out into the streets to raise money and awareness about the reality in which thousands of Argentinean families live.
Designed to empower participating families, Un Techo Para mi Pais actively involves the families in the construction of their new home and families are required to contribute ten percent of the total value of their home.
Despite the good works, don't be fooled into thinking that everyone is in it to selflessly give up their Saturday mornings just to help out impoverished families. The social scene is also a major attraction. The students gain valuable experience to put on their CVs, make new friends and the male volunteers take advantage of the opportunity to chat up the female volunteers.
Foreign volunteers benefit from a free, reliable and safe day in the province with the unique opportunity to talk to people in their own homes and see the country through a very different lens than the tourist-tinted spectacles blissfully enjoyed by the guidebook worshippers. The chic restaurants and bars of Palermo and Recoleta can easily lead one to believe that Argentina is no longer a developing country, but one step out of the bubble and Argentina's real identity lies bare.
— by Florence Ashworth
How to sign up:
Un Techo para Mi Pais — Volunteer
Montevideo 442
Microcentro
Tel: 4519-8349
Cell: 15-5811-4296
-Fill out the form for new volunteers. They will get in contact with you and you can start the following Saturday, bringing as many friends along as you wish.
-It is definitely an advantage if you can speak Spanish as the families won't speak English. However, if you don't speak Spanish it is likely that the other volunteers will speak English so they can help you out with translating.
-Un Techo para mi Pais offers volunteer opportunities in various parts of Argentina. Just check out their webpage linked above to find out more.
Comments
comments