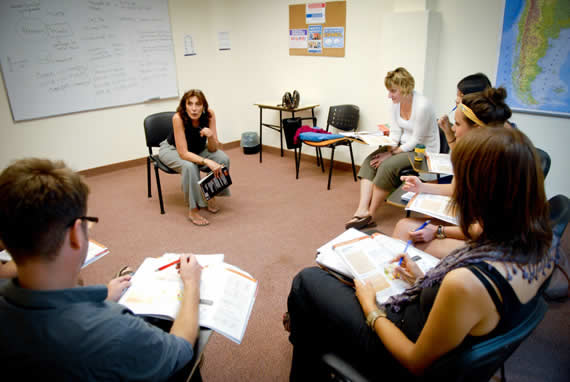 Porteño Spanish has many idiosyncrasies. Among the challenges are a high lunfardo slang content, the letter 's' often 'missing in action,' and the tendency of locals to speak at rapid-fire pace. Despite these initial trials, Buenos Aires is a great place to learn Spanish.
It's a city of contrasts, mixing a Latin American spirit with a European ambiance with beautiful architecture, a restaurant scene that rivals any in the world and a captivating culture. Which is why language students from all over the world come to Buenos Aires to learn Spanish. Plus, if you can understand a Porteño speaking Spanish, understanding the rest of the world's Spanish will be a walk in the park.
Tips
Do:
1. Get an intercambio (language exchange)
Whether you are taking an intensive course (usually 20 hours a week), or just a few individual lessons, don't think that's enough! Set up a weekly meeting with an Argentine to put into practice what you've learned and make a new friend. But ladies beware — it's not unknown for some of the language exchange sites to be used by Argentine men with then intention of doing more than just practicing their English.
2. Carry a notebook with you (everywhere!)
Carry a notebook and a pen so you can write down words and refer to them as reminders when needed, and also can also take down words and phrases that you hear people saying throughout the week. For example 'What the heck does Che Boluda mean?' You're eagerness will make you the teacher's favorite.
*Note: avoid repeating phrases in class you have heard taxi drivers aiming at other drivers. You are likely to lose your recently acquired position as 'teacher's favorite.'
3. Enlist the service of your teacher
Try to avail yourself of your teacher as much as possible. Their principle responsibility is to teach you the curriculum to ensure your success in mastering the language, but if you're clever you will really get value from your teacher from asking questions, i.e. words you've heard in between classes and cultural recommendations such as Spanish language films and books. Don't be afraid to approach them after class if you feel you are struggling with anything in particular.
4. Read and listen to local media
Dive into Argentina's rich and diverse culture head first. From the banal, such as the tabloid news channel, Crónica; to the deep, such as the literature of Jorge Luis Borges; and the informed, such as daily newspaper, La Nación, Argentina's media will arm you with a wide vocabulary and keep you entertained. Films are also a great way to learn. Some schools provide Spanish film screenings where you can watch movies with Spanish dialogue and English subtitles and discuss the film afterward. For musical lovers, Buenos Aires regularly hosts the big Broadway musicals. In short, there's something for every Spanish language learner in the Argentine capital.
5. Make use of modern technology
You don't need to be an IT nerd to make the most of the huge array of modern technology on offer to Spanish learners. Iphone Apps galore including free Spanish resources such as Google translate, and some with a fee, such as Basic Spanish for Dummies are great for keeping up the Spanish practice while on the move. Actualidad Argentina is a weekly Argentine Spanish language news podcast that offers additional help with its online tools, Spanish hangman is old school but fun and great for the old vocab! There's even an app specifically for Porteño Spanish.
Don't:
1. Make too many English speaking friends
This is a classic piece of advice that most people studying abroad will be told. It's not always easy, but the reality is, apart from getting to practice the odd, 'Dos empanadas de carne por favor,' if you surround yourself with fellow English speakers, you might as well be learning Spanish back home. If you're having trouble meeting Argentines, see 'do' point number one.
2. Be unrealistic in your expectations
Don't forget that learning a language is a huge undertaking. Start your lessons with realistic expectations of what you can achieve in your allotted time and you won't be disheartened. Learning Spanish in Argentina should be seen as a long, winding and sometimes pretty bumpy journey. It's trying and exhausting but rewarding when you get to the top.
3. Be embarrassed
Practicing your Spanish is absolutely crucial to progressing during your course. Your biggest hurdle when it comes to speaking with natives and using your newly acquired vocabulary will be embarrassment.*
Are you conjugating the word in the correct tense? Is your pronunciation right? Are you boring them with your slow delivery of the simplest of sentences? As soon as you lose all this baggage you will begin to speak more fluently. Learn to laugh at yourself a little bit and it will all be far more enjoyable.
*And speaking of not being embarrassed, don't make the old school mistake of saying you are 'embarazada,' which actually means pregnant in Spanish. That is an error that is made by most Spanish students at some point during their trip.
4. Get caught up in the competition
You can do your best to avoid it, pretend it doesn't exist and not worry about what anyone else thinks, but it will always be there — the element of competition. Whether you are a tourist, expat or student, you can't help but compare your Spanish to everyone else. A bit of healthy competition is okay, if it helps spur you on, but don't compare yourself to the guy who's been living in BA for three years and has a degree in Spanish — no good can come of it.
5. Forget your cause!
Make the most of your time in Argentina, visit museums, galleries and boliches (nightclubs) to your heart's content. You're in the wonderful city of Buenos Aires to enjoy it, but don't let the city's greatness distract you from your Spanish cause. Make sure you set aside time during the week to take it all in and let what you've learned penetrate your mind. Buenos Aires is a bit like a demanding girlfriend or boyfriend — it will try with all its heart to distract you from your work. Give it the time it deserves but don't lose focus!
— Maria Paula Vazquez is the Academic Director at Buenos Aires-based Spanish School, Expanish. Paula is responsible for the development and management of Expanish Spanish School's range of Spanish language courses.
Comments
comments